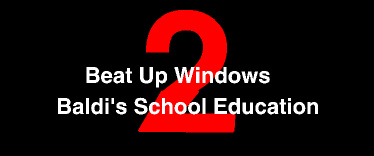 Beat Up Windows 2: Baldi's School Education
A downloadable game for Windows
Welcome to Beat Up Windows 2 Baldi's School Education EXE Edition
Is Now Windows
Special Thanks to: Stikbot5Studios,Ahmad Studio,GD Ahmet TheVYONDGuy, Edward's Tech Review, Defta Tubor, Axl Gallais, Kiro Ramy, GD Gena, Karol Ramy, Angel Toon, And you! :)

New Addiction: Cursor, Ending Cutsence, and Other
New Fix the Game
Scratch: https://scratch.mit.edu/projects/245017384/
Halloween Scratch: https://scratch.mit.edu/projects/250754175/
Definitive Edition Scratch 3.0 https://scratch.mit.edu/projects/245017384/
MS-DOS Edition: MS-DOS 7.10 OS Is Perfect Operating System that You Played a Game and You Put disk in a Computer and Play Beat Up Windows 2, All need to Do is Buy for 2$ for Full Game, No Just Kidding, Download on Windows and Is Working But Mac is OK! So Download for Windows and Mac i guess!
Windows 8, 8.1 or 10: If Promblem to Protect to Your PC Then Click More info Then Run Anyway
If MS-DOS Edition Fail to Download then Press up then Click Keep
Beat Up Windows 2 is Now Soundrack!!! :)
If there Problem To CyberCapture Then Turn off CyberCapture and Launch Again! If not, Then Is Not Going Play!
Full Screen - Control+F
Exit to the Screen - Esc
MS-DOS Update: Fix the Promblem
9.2018
HAPPY DAY OF SCHOOL AND UPDATE!
Beat up Windows 2 Baldi's School Education ... Edition:
School Edition: https://scratch.mit.edu/projects/244145547/
Cartoon Edition: Down and Download
06.10.18 - Halloween Special!!!